Holiday Shipping Schedule
For delivery by December 24, order by the following dates before 2:00pm (EST).
| State | Standard Ground | Overnight |
| --- | --- | --- |
| NC, SC, VA, MD | December 22 | December 22 |
| SC,FL, GA, AL, MS, LA, AR, TN, KY, WV, PA, NJ, MA, VT, OH, IN, MI, IL, MO, NH, CT, RI, DC, WT, ME, DE, MD | December 21 | December 21 |
| TX, OK, CO, NE, SD, ND, MN, WI, NY, ME, KS, IA, WY, NM | December 20 | December 21 |
| MT, ND, WY, UT, AZ, ID, NM, CA, NV, TX | December 19 | December 21 |
| CA, OR, WA, NV, ID, MT | December 18 | December 21 |
---
*Please call Customer Service for expedited shipping (877-401-9017).
---
At Pawleys Island Hammocks, we do our best to get every order packed and out the door within 1-2 days. Many in-stock items ship the same day if ordered before 2 PM EST. Out-of-stock items, however, typically take additional 2-3 days for us to ship.
For a better sense of how long your order should take to reach its destination once it's shipped, check the maps below. We do also offer expedited shipping; call us toll-free at (877) 401-9017 for quotes.
We use FedEx Ground and FedEx SmartPost for our shipping. Please note that FedEx Ground delivers on Saturday, but not on Monday. If your shipping destination falls in FedEx's 2-day delivery zone and we ship your order out on a Thursday, FedEx will deliver it that Saturday. If you are in FedEx's 4-day delivery zone, that same order will be delivered the Wednesday immediately following the weekend.
For large orders, shipments may go freight. This is to ensure your packages ship together and arrive together. For special requests please call (877) 401-9017.
---
FedEx Ground Map Below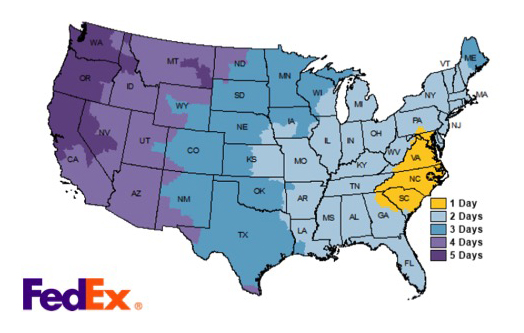 ---
FedEx SmartPost Map Below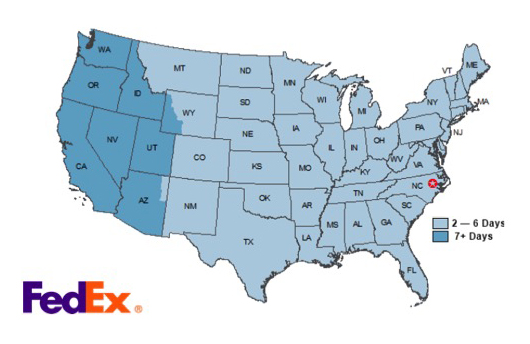 ---
Invoicing
To make gift-giving easier, the invoices we send with our orders do not include pricing and payment information. Of course, if you're sending an Original Pawleys Island item as a present to someone, it still never hurts to let them know to be expecting a package!
Tracking your order
Once your order has shipped, you can always check here to track it. If you provided us with an e-mail address in your order, then we can also send you tracking information directly. Please note, though, that some e-mail providers may automatically block incoming mail from our domain name, so you may need to "instruct" your e-mail program to allow mail from pawleysislandhammocks.com in order to receive order and shipping confirmation from us.
Damage during shipping
Thankfully, we rarely see this happen, though parts certainly do sometimes get damaged during shipping. If this should ever happen to something you've ordered from us, we'll be happy to send you a replacement as soon as possible, and we'll contact FedEx ourselves for claims and damages. Please do note, however, that we cannot use rush delivery to send a replacement for something that's been damaged in shipping. We work very hard to keep our shipping costs as low as we can so we can pass along those savings to our customers.
---
We back our exceptional products with exceptional customer service. Questions or comments? Please call us toll-free at (877) 401-9017.
---