---
What is the difference between Cotton and DURACORD® rope?
To begin with, cotton is an organic fiber, and polyester and DURACORD® are synthetics. All three have their distinct attributes, and advantages.
Cotton – Soft and with a natural off-white color, cotton has been the traditional rope fiber for hammocks for more than a century. For people who crave the classic American hammock style and the rich tradition that goes along with it, and who are willing to take their hammocks down and store them somewhere dry for the winter months and during stretches of bad weather, cotton rope may be ideal.
DuraCord® – Our signature synthetic rope takes the heightened weatherability and cotton-like feel of our soft-spun polyester and ups the ante even further. Solution-dyed, so the color is sealed into the fiber even as it's being made, DURACORD® is the most fade- and stain-resistant rope and outdoor-fabric material made today. Quick-drying and virtually nonabsorbent, this remarkable synthetic holds up to heavy wear, and likewise resists rotting, mold and mildew. Under the same conditions, DURACORD® will normally last longer than either polyester or cotton.
---
How do I determine the ideal amount of space for hanging my hammock?
The ideal hanging distance typically averages out to about 2 feet greater than the total length of a hammock, which is measured from ring to ring. Generally speaking, you should plan on needing about 15 feet of open space for hanging your hammock, though the actual distance can vary anywhere from 13-16 feet. Keep in mind that the closer your hanging points are to each other, the greater the arc, or curve, your hammock is going to have once it's hung.
The Right Height & Distance for Hanging Your Hammock

Distance Between Trees or Posts
Hammock Length*
10'
11'
12'
13'
14'
15'
Height of Tree Hooks (in inches)
9'
48
48
48
48
48
48
10'
54
48
48
48
48
48
11'
66
54
48
48
48
48
12'
84
72
60
48
48
48
13'
96
84
72
60
48
48
14'
108
96
84
72
60
48

* Distance measured from ring to ring when hammock is laid flat on the floor. Please Note: A new hammock may be up to 2 feet shorter than its specifications, to allow for its ropes' natural tendency to stretch the first few times the hammock is used.
---
What's the weight capacity of a Pawleys Island Hammock?
All of our hammocks will hold up to 450 pounds. (The weight capacity for our swings and stands, however, varies by product, from 350 pounds up to 600 pounds. Check individual product details here at this site, or on the original packaging your Pawleys Island product came in, for specific weight capacities.)
---
Neither rope nor fabric is inherently better or worse; it really comes down to personal needs, and personal preference. For many people, the fact that the cotton-rope hammock is more traditional is of primary importance. Rope hammocks allow airflow through the open weave, making them potentially cooler (that is, less warm!) to recline in. For that same reason, fabric hammocks may be more desirable if a hammock is to be used for more than just summer reclining, since the restricted airflow from below can mute some of the nippy breezes of spring, fall and winter. With our fabric hammocks, too, the rich and colorful designs offer varied possibilities for enhancing the beauty of some chosen corner of your yard. The wicker-like weaving pattern of our Soft Weave Hammocks, feature cushiony, cottony-soft, all-weather fabric ribbons, creating a feeling of lying on a quilt suspended in the air. Our Original Pawleys Island Quilted Hammocks, woven from two layers of soft all-weather fabric with a center of plush polyester fiber-fill batting, are heavier and thicker, with a pillowy surface, so they offer more of a bedlike reclining experience. Our Original Pawleys Island Quick-Dry Hammocks, by contrast, are woven of a single layer of soft, fast-drying, all-weather fabric, making them particularly appropriate for wet climates, and the perfect compliment for poolside, lakeside, even seaside.
---
Do I need to bring my hammock in out of the rain?
You certainly don't need to race out and take down your hammock every time there's a light shower. However, during lengthy periods of rain or stretches of extreme weather, it's not at all a bad idea to bring your hammock indoors. Particularly in the case of cotton rope, your hammock will remain in far better shape if you routinely minimize its exposure to harsh or overly wet weather.
---
Can I leave my hammock out year-round?
Though our DURACORD® rope and fabric hammocks handle prolonged and intense weather exposure remarkably well, we still don't recommend leaving a hammock outside continuously exposed to the elements or to harsh winter conditions, since prolonged exposure to nasty weather will ultimately shorten hammock life. This is particularly true where cotton rope is concerned.
---
How long can I expect my hammock to last?
There's no simple answer to this question. Climate, care and maintenance of the hammock, along with the materials from which it is crafted all greatly affect how long it will last. Particularly if the hammock rope is made from a natural fiber such as cotton, the hammock's lifespan can be as short as one year if proper care is not taken to protect it from the elements. However, if a hammock is routinely cleaned, and also taken down and stored during periods of bad weather, it's not uncommon for even a cotton-rope model to last for upwards of 20 years; hammocks made from quality synthetic materials like our DURACORD® can last indefinitely if properly cared for. So regardless of the material from which your Pawleys Island Hammock is crafted, the amount of care you invest in it will profoundly affect the length of its useful life.
---
Are there specific things I can do to help my hammock last longer?
Absolutely! Here are a couple very worthwhile tips to follow:
Climate can impact the life of a hammock tremendously, so be aware of how weather patterns in your own area may adversely affect the materials from which your hammock is made.
In general, it's a good idea to bring your hammock in during extended periods of bad weather or lengthy periods when the hammock is going unused; this is especially true if you own a cotton-rope hammock. If you experience routine severe weather or really low temperatures in winter, we recommend storing your hammock inside for the season, since you're not likely to be doing much outdoor reclining in it anyway!
Keep your hammock clean and free of debris. Even though your hammock is made of DURACORD® or Sunbrella®, both of which discourage microbial and fungal growth, mold and mildew can still grow on organic material lodged in the hammock rope or fabric fibers, which is not only unsightly, but can eventually start compromising the integrity of the hammock itself.
Dogs, especially puppies, often regard hammocks as great chew toys, so dog owners should hang, and store, their hammocks somewhere Rover can't easily reach. Also, avoid storing near strong chemicals, including pesticides, which may have a corrosive effect on different hammock materials.
---
How can I keep my hammock looking new for as long as possible?
In general, don't let leaves, sticks and other yard debris accumulate in your hammock. Beyond that, periodic cleaning is key.
For our cotton rope – Soak the hammock in mild soapy water and then rinse the rope with a hose. Let your hammock hang to dry, or else lay it on a clean, flat surface. Keep the spreader bars out of the water as much as possible.
For our DuraCord® rope – Follow the suggestions for cleaning polyester rope, though instead of using a brush for scrubbing, we suggest rubbing the rope against itself.
For our quilted fabrics – In general, light spot cleaning is best. Our quilted hammocks contain polyester fiber-fill batting; cleaning too vigorously can cause the batting to bunch up, and it may be difficult to get it to return to its original shape. If more extensive cleaning becomes necessary, carefully wash using a mild soap-and-water solution and a soft-bristled scrub brush. Rinse completely with a hose, then hang your hammock back up to let it air-dry. Store-bought spot-remover solutions can also be used for problem areas.
For our quick-dry and soft weave fabrics – Using a mild soapy-water solution, scrub the fabric gently with a soft-bristled brush. Rinse completely with a hose, then hang your hammock back up to let it air-dry. For more serious cleaning, try using a solution that's one part bleach to four parts soapy water. Keep the spreader bars out of the water as much as you can.
---
Yes, though in general, light spot cleaning is best. Our pillows contain polyester fiber-fill batting, to boost softness and overall comfort. Cleaning too vigorously can cause the batting to bunch up, and it may prove tough to work it back into its original shape.
---
The rope ends on my hammock seem to be fraying – is that normal?
Yes, it is. We call the effect "tasseling," and it's a look very much in keeping with the classic American rope hammock. Tasseling in no way affects the durability of the rope; the bowline knots we use actually tighten further as weight is applied to them, which keeps any fraying from progressing past the knot itself. You'll probably discover the effect happening at different times with different pieces of rope. To aid our weavers in their work, the ends of our cotton rope are typically dipped in wax, while synthetic-rope ends are sealed with a hot knife. However, normal use of a hammock eventually frees both waxed and heat-sealed ends to where they tassel as well.
---
The finish on my hammock spreader bars is beginning to flake off a little. What can I do?
Though we hand-dip all of our wood parts multiple times in marine-grade varnish for heightened protection from the elements, regular weather exposure is going to eventually start degrading the finish. In refinishing spreader bars, you want to keep the varnish off the hammock ropes as much as possible; you can nonetheless easily and effectively touch up the most-exposed parts of the wood. To protect rope life, we do not recommend attempting to apply varnish into the spreader-bar holes, however, and not doing so should not greatly affect either the useful life or looks of your spreader bars since the holes are neither as visible nor as exposed to the elements as are the tops of the spreaders themselves.
Begin by sanding the tops of both spreader bars with 120-grit sandpaper, then wipe the dust clean with a slightly damp cloth. Flip your hammock over and repeat for the opposite sides of the spreader bars.
For the actual refinishing, you can use any shade of polyurethane marine-grade varnish. We used high-gloss in honey-gold color, available at any hardware store. We originally applied three coats, though two ought to be enough for periodic upkeep.
Slide each spreader a few inches away from the tie-on knots. Then, if you're confident you can apply the varnish carefully to the tops of your spreaders without splashing on the ropes, skip to Step 4. Otherwise, there are a few precautions you can take toward protecting the rope as you apply the varnish.

Wrap each individual spreader-bar rope tightly in regular painter's tape, then work the tape as far as you can into the spreader bar holes. This can be extremely time-consuming, since you'll need to wrap the ropes on both sides of the spreader bar.
A quicker, though not quite as thorough option, is to wrap painter's tape (the widest width is best) across the tops of all the exposed ropes coming through the spreader; the tape edge should run alongside the edge of the spreader bar. Do this on both sides of the spreader, so the wood is completely bordered by tape, then flip your hammock and do the same thing to the reverse side.

Using a good-quality narrow brush, apply coats to the tops of both spreader bars, then carefully flip your hammock upside down and apply coats to the backs of the spreader bars as well.
Let the newly varnished wood air-dry for 24 hours, then lightly re-sand, wipe away the dust and then apply a second coat of varnish, following the steps above.
These same basic guidelines are appropriate for touching up the finish on any of our wood products.
---
How much will my hammock stretch?
Depending on the rope or fabric material, your hammock can stretch anywhere from 1-2 feet.
---
How do I hang my hammock?
To our way of thinking, the ideal way to hang an Original Pawleys Island Rope Hammock is between two trees! That often isn't possible, of course. So here are a few other hanging possibilities you might try:
A tree and a post set in concrete
A tree and a building
A building and a post set in concrete
Two posts, both set in concrete
Two buildings
On a porch or deck (permanent structures only)
A factory-built stand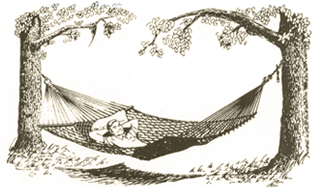 If you aren't going to be using a stand, we suggest following
these tips to successful hammock installation:
Your hanging space should be between 18-24 inches greater than your hammock's total length, from ring to ring. Keep in mind that the closer your hanging points are, the more curved your hammock is going to be.
The wood you choose for installing your hanging hooks should be at least 6 inches (15 cm) in diameter, and strong. Wood types such as willow, palm and beech are soft, and may not support your hammock when in use; hardwoods such as oak, hickory, etc., work far better.
Typically, you'll want to install your hanging hooks about 4 feet from ground-level. Check "The Right Height & Distance for Hanging Your Hammock" chart, above, for exact height.
To install hanging hooks in a tree or other wooden surface, drill a 1/8 inch-3/16 inch pilot hole (the smaller the better). Start the hook in the hole and then grip the hook eye with a wrench or thread the eye with a screwdriver to twist all the way in. Stop when the eye makes contact with wood; over-twisting can damage the metal and weaken support.
Hook the free ends of the chains on each side of your hammock over your newly installed hammock hooks, using the chain links to adjust height and tautness. Your hammock may seem overly tight and slightly difficult to lie in right after it's first been hung; that's natural. After some use, the rope will loosen and stretch to its full length. As the rope stretches, it will probably be necessary to shorten or lengthen the hammock chains to achieve your desired hanging height. It's not unusual to have to tweak the height a couple of times.
---
Will tree hooks hurt my trees?
No, they shouldn't affect the health of your trees; however, tree hooks will leave behind holes should you ever decide to remove the hooks. For that reason, we recommend using tree straps instead. Tree straps require no drilling and allow easy changing of hammock height – plus you get the added convenience of easily being able to move your hammock from place to place whenever you want!
---
If I decide to use posts to hang my hammock, how do I install them?
When scouting out a suitable location to install your hammock post(s), look for soil that's dense and compact enough to provide decent support. If the soil is loose, pick a different spot.
Check the package your hammock came in to find its overall length (measured from ring to ring when the hammock is spread flat on the ground), then add 24 inches to that number to determine the distance you'll need between your post(s) or other hanging point.
Dig a hole for each hammock post you're installing. Each hole will need to be a minimum of 18 inches in diameter and 26 inches deep. Purchase the necessary amount of unmixed concrete to fill the hole(s). Consult your local hardware store or lawn-and-garden center if you need assistance with how to use the concrete.
Install the hanging hook(s) in your pole(s) before you put the pole(s) into the ground. For each hammock hook, first drill a 1/8 inch-3/16 inch pilot hole (the smaller the better) about 4 feet up from the ground (check "The Right Height & Distance for Hanging Your Hammock" chart, above, for exact height). Start the hook in the hole by hand and then grip the hook eye with a wrench or thread the eye with a screwdriver to twist all the way in. Stop when the eye makes contact with wood; over-twisting can damage the metal and weaken support.
Place your post(s) in the ground at a vertical angle, filling the hole(s) the rest of the way with concrete mixed according to its package directions. Allow the concrete to set overnight before hanging your hammock from the post(s).
---
My hammock is "bottoming out" and has me practically lying on the ground when I get in it now. What can I do to get it hanging higher again?
Hammock ropes naturally stretch over time. The first thing to do to compensate for this stretching is adjust the hanging chains at the end of your hammock. Unfortunately, if your hammock is a bit older, you may find you've already shortened the chains as much as you can, a sign that the rope may actually be nearing the end of its useful life. However, if the hammock rope doesn't appear frayed or weak, you can try adjusting the hanging distance or changing the hanging height, if your circumstances will allow for this. Check "The Right Height & Distance for Hanging Your Hammock" chart, above, for the ideal hanging distance or hanging height.
---
My stand wiggles a little; is it defective?
No, a little wiggle in the stand is to be expected. We manufacture our stands this way to better accommodate the natural swaying motion of a hammock or swing.
---
How do I hang my swing if I'm not going to be using a stand?
Whether you choose to have your swing inside or on a porch, make sure you hang it from a beam that's at least 4 inches by 4 inches. Your hanging surface needs to be capable of holding at least 600 pounds.
---
How far away from the walls should my swing be if I'm hanging it on a porch?
Just far enough to keep it from hitting any of them! We typically recommend leaving at least 3 feet between your swing and any wall or other structure. Also, be sure to leave enough room in front and behind, to allow for the back-and-forth motion of the swing.
---
Are there any important safety precautions I should take when using my hammock?
Yes, several!
Don't exceed your hammock's stated weight limit. Falling can really hurt.
Always place your weight in the center of your hammock, not on either edge. See note on falling, immediately above.
Don't allow young children to use the hammock without adult supervision. Don't EVER place infants in any hammock.
Don't allow your children to jump up and down in your hammock or use it like a playground swing. Not only is this extremely dangerous, but it puts excessive wear and tear on the hammock and its hanging hardware.
Don't let hammock chains get twisted and don't flip your hammock over while it's hung; both severely compromise chain strength.
Always inspect your hammock before getting into it – squirrels, mice, birds and bugs sometimes use hammock-rope fibers to build nests and to live in, and weakened rope may give way under pressure. Have we mentioned that falling can hurt?
---
How do I know which Hammock will fit on which stand?
Here's a chart to help you!
SAR

Deluxe Roman Arc Wood Hammock Stand

SAR-2

Cypress Roman Arc Wood Hammock Stand

L-ST•••

15 ft.Tri-Beam Steel Hammock Stand

L-ST•••-I

15 ft. Hammock Stand with Powder Coated Steel Tube Frame

L-ARC•••-I

15 ft. Steel Arc Hammock Stand with Cape Shield Powder Coating

Single Rope Hammock - Cotton/DURACORD®

✓

✓

✓

✓

✓

Large Rope Hammock - Cotton/DURACORD®

✓

✓

✓

✓

✓

Deluxe Rope Hammock - Cotton/DURACORD®

✓

✓

✓

✓

✓

Presidential Rope Hammock - Cotton/DURACORD®

✓

✓

✓

✓

✓

Large Quilted Hammock - All Fabrics

✓

✓

✓

✓

✓

Large Soft Weave Hammocks - All Fabrics

✓

✓

✓

✓

✓

Large Quick-Dry Hammock - All Fabrics

✓

✓

✓

✓

✓
---
We back our exceptional products with exceptional customer service. Questions or comments? Please call us at (252) 295-0407.
---