We've been crafting by hand since that fateful steamy summer day back in 1889, when South Carolina riverboat captain Joshua John Ward finally hit on his winning formula for a quality rope hammock.
Cap'n Josh, as he was known, was really only seeking a cool, comfortable, stable night's sleep onboard his boat; he never set out to be in the hammock business! But soon enough, the inevitable happened: Friends wanted a rope hammock as good as the one he'd made for himself, and then it was friends of friends, and then folks Cap'n Josh didn't know at all. In no time, family members were pitching in to help him meet the increasing demand.
Jump forward just a few decades, and the Original Pawleys Island Rope Hammock had already become the standard by which other rope hammocks were being measured.
Today, we get machine assistance with a few production processes, such as rope-making and wood cutting, to capture the precision required. At Pawleys Island, we don't view the human part of the process merely as important; we regard it as essential. Handcrafting is who we are.
---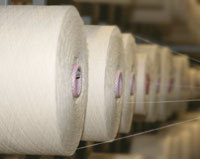 The Rope Shop
It all starts here. Miles of top-quality yarn – either cotton, soft-spun white polyester or colored DURACORD® – are brought together in a point and rapidly spun into single strands of rope. A trio of those rope strands is next precision-twisted to form the heavy, soft 3-ply rope that gives our hammocks their superior strength and comfort. New rope is then wound onto spools and, as needed, transferred in pre-measured lengths onto large wooden needles for weaving. Finally, finished needles of cotton, polyester and DURACORD® rope are taken to the weaving area and distributed, so the weavers can work their magic.
---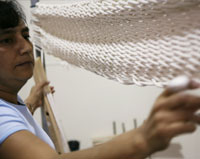 The Weaving Area
Watching an expert hammock weaver at work is to risk being hypnotized by the rapid, rhythmic motion of hands and rope. Armed with a large wooden needle wound with 3-ply cotton, polyester or DURACORD® rope, the weaver jockeys back and forth between the ends of the loom, threading and tightening, threading and tightening, threading and tightening. Look closely, and you'll often find the weaver isn't even looking at the rope, working only by feel. And within no time, the continuous lattice-like rope body of a hammock, or a hammock-inspired swing or rocker, has begun to take shape...
---
Clew Knots
Every Pawleys Island Hammock, whether rope or fabric, is fastened to its zinc-plated O-ring and hanging hardware by a decorative triangle of hand-woven rope, a macraméd version of the old mariner's clew knot. An accomplished weaver can craft a clew knot, also often called a ring knot, in minutes, rarely even glancing at his or her own dancing hands at work.
---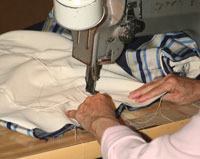 The Fabric Area
Our experienced fabric team cuts sheets of richly designed, all-weather, cottony-soft fabric to the size of hammock beds, sewing the fabric to create either our single-layer Quick Dry Hammocks or double-layer Quilted Hammocks. Our quilteds are skillfully stitched to create a pillowy surface over a plush center layer of nonabsorbent polyester fiber-fill batting. We lockstitch for added durability, instead of using the more common, more easily produced chain stitch that, should it happen to snag, can unravel a whole section of fabric in just seconds.
---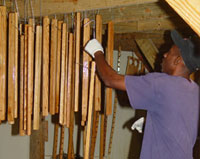 The Wood Shop
Our hammocks and hammock-inspired swings and rockers are handmade using only Southern white oak, a handsome, heavy hardwood prized as furniture stock for its durability and lengthy grain. All of our wood parts, including our hammock spreader bars and the frame pieces of our swings and rockers, are machine-cut and machine-drilled for precision.
Assembly of our swings and rockers is also completed, by hand, in our Wood Shop.
Counter-sink drilling
With most hammock brands, spreader-bar holes narrow abruptly at both ends, in a sharp angle. By contrast, the special countersink drill we use makes holes that start wide but then transition smoothly, with no hard angles that over time can cut or weaken hammock rope.
Hand-dipping
Machine-varnishing would be cheaper and faster, but we'd lose a lot more than we'd ever gain in the process! That's why all of our wood pieces are still finished by hand, to ensure total coverage and a uniform thick coat. We hand-dip repeatedly in marine-grade spar varnish, for a longer outdoor life, and to achieve that distinctive honey-gold wood color that has for years been among the hallmarks of the Pawleys Island brand.
---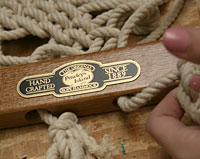 Hammock Assembly
Each completed Pawleys Island hammock includes one hammock body, two spreader bars and two clew knots attached to hanging hardware. Clew knots and spreader bars are joined by threading each knot's rope ends through a spreader's corresponding holes. The threaded ropes are next joined by sturdy bowline knots to tie-on points at one end of a hammock body, with the process then repeated on the opposite end. Finally, the hammock is thoroughly inspected for everything from the quality of the weave to the strength of the tie-on knots. Then and only then does that attractive little Pawleys Island nametag go on.
---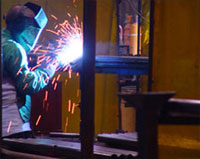 Metal Shop
Our hammock stands and swing stands start here, assembled from 2-inch 12-guage steel pipe, among the very heaviest in the industry. Stronger pipe automatically means a more stable stand.
Right Connection®
Our hammock stands are bolstered by our patented 360-degree Right Connection® weld. Traditional welding joins two metal pieces where they meet, one atop the other; by contrast, at Pawleys Island we use a punch press to cut a half-moon hole in our hammock-stand base pole and then insert a foot pole into that snug new groove, applying the weld all the way around the joint. We've never seen a single Right Connection fail.
---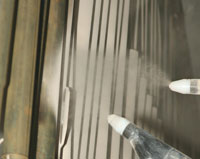 The Paint Line
All steel poles for our hammock and swing stands are finished with our attractive Cape Shield® Powder Coat, for enhanced weatherability and rust protection. Our powder-coat process includes extensively cleaning the steel, which not only improves how well the coating adheres, but has a wonderful "green" benefit as well: Much less water and energy is required than for other industrial coatings. Our pressure-spraying system for applying Cape Shield also yields a thicker, more uniform coat, and a tighter bond between metal and coating, than is possible through the industry's more typical dipping-application method.
---
From our workshop to your back yard...
For generations now, the Original Pawleys Island Rope Hammock has been among the best-known symbols of exceptional relaxation.
---