For a quick measure of hammock quality, check out how much rope is used. At Pawleys Island, we don't skimp on rope. In fact, we don't skimp on materials, period. Never have. Never will.
---
When brand founder Joshua John "Cap'n Josh" Ward set out in 1889 to create a comfortable, secure rope hammock, he focused on better materials and heightened craftsmanship as keys to eventual success. Instead of using the rough, thinly wound hemp and manila rope common to his day, Cap'n Josh opted for heavier rope made out of skin-comfy cotton. Then, instead of tying his rope strands together – the bulky manner in which rope hammocks were then made – the crafty South Carolina riverboat captain devised a knotless double-latch weaving style that used gravity and tension to produce a lattice-like design. His new rope-and-wood creation was not only a pleasure to recline in, but was infinitely stronger and safer than those knobby old-style hammocks as well.
Cap'n Josh's philosophy of greater comfort and dependability through craftsmanship and quality is what drives our hammock-crafting to this day.
---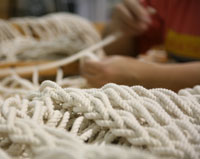 Our Rope
Our weavers use a better-quality rope, and more of it, than you'll find in most any other hammock made. To put some numbers on it, our hammock bodies average 10-15 percent heavier than those of even our closest competitor, and a full 50 percent heavier than the majority of other rope hammocks on the market.
You can easily see the difference in rope quantity when comparing an Original Pawleys Island Rope Hammock with that of other brands. Count the number of holes on one of our hammock spreader bars, and measure the distance from hole-center to hole-center. We drill our spreader holes 2½ inches apart, from center to center; other companies generally run 3 to even 4 inches between holes. More holes automatically means more rope is being used – and more rope means a stronger, more stable, more comfortable hammock.
But how do we really know it's better rope? Because we make it all ourselves! We start with miles of quality yarns, which are machine-wound into three separate plies that are then precision-twisted and balanced to a strength exceeding even exacting U.S. military standards. We offer our exceptional three-ply rope in traditional cotton, as well as in soft-spun white polyester and several colors of our remarkable new-generation synthetic DURACORD®, our top-of-the-line rope.
Cotton:
100% natural yarns used for more than a century for handcrafting our signature classic rope hammocks.
Polyester:
Weather-durable, and soft-spun for comfort.
DURACORD®:
Solution-dyed color, which means the rope isn't dyed in typical industrial fashion, through washing or dipping, but that the color actually goes in even as the synthetic DURACORD® fiber is being made, so the color is actually part of the fiber itself.
Exceeds industry standards for fade-resistance.
Exceptionally stain-resistant, cleaning easily with just soap and water, though color-safe even with household bleach.
Fast-drying.
Resistant to rot, mold and mildew.
The soft feel of cotton. We've even fooled a cotton expert with it. Seriously.
---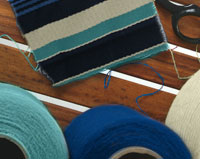 Our Fabric
We use only highly nonabsorbent all-weather fabric that's resistant to rot, mold, mildew, fading and staining, yet with a level of softness to rival cotton. To further boost relaxation potential and weatherability, our quilted fabric hammocks boast a pillowy layer of polyester fiber-fill batting.
---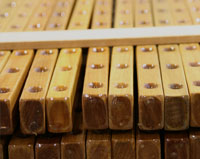 Our Wood
White oak: We use only this gorgeous Southern hardwood for our hammock spreader bars, swings and rockers.
And lots of it: Our spreader bars run thicker than those of other hammock-makers. That not only makes our spreaders sturdier, but also able to support more holes for rope.
Superior drilling: We use a specially designed countersink drill for the rope holes in our hammock spreaders. Other manufacturers favor a countersink-drilling style that creates a downward slope ending at an abrupt angle; our drill holes also start wide, but then transition smoothly, with no hard angles, so the ropes passing through aren't constantly wearing against sharp edges.
A lasting glow: All of our hammock, swing and rocker wood pieces are repeatedly hand-dipped in marine-grade varnish, for a warming honey glow that doubles as solid protection against the elements.
---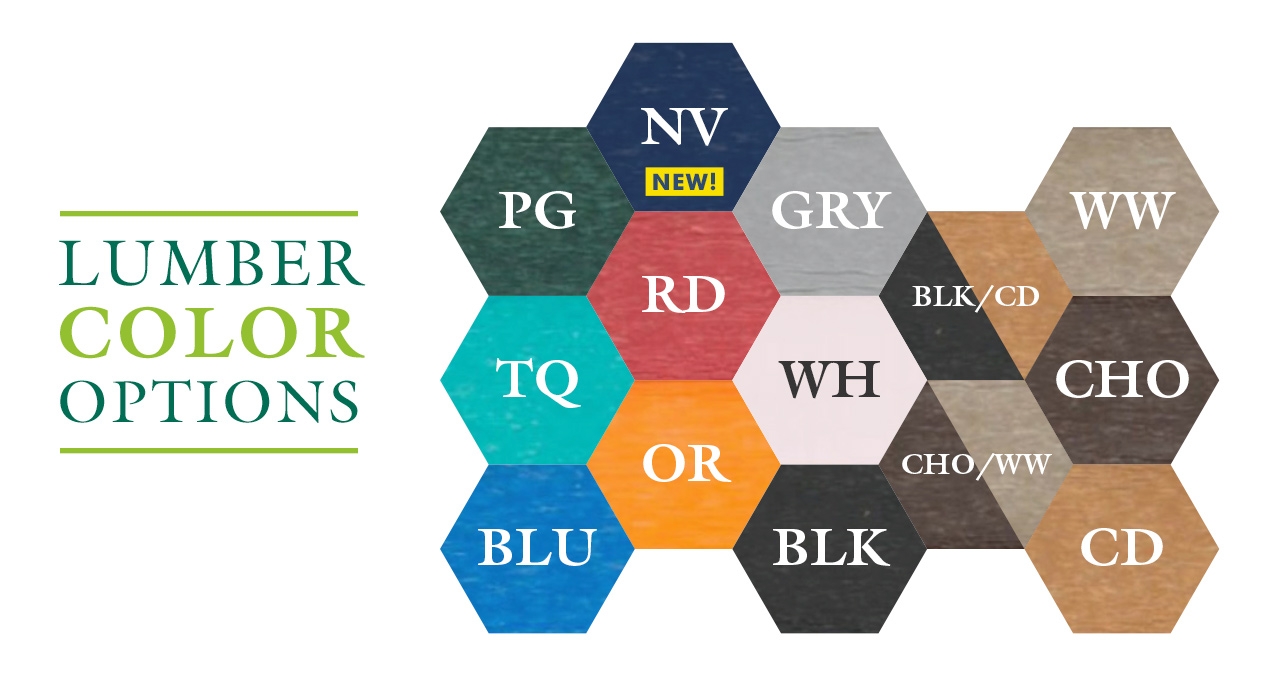 Our DURAWOOD® Poly Lumber
DURAWOOD® is made from recycled HDPE: High-density polyethylene, a polymer (plastic) and is designed to look and feel like natural wood. HDPE can be found in items like hula hoops, milk jugs, water pipes, bottle caps, and industrial waste - the HDPE material in our furniture is recycled from these materials.
But I don't want furniture that feels "plasticky":
This furniture feels anything but, thanks to the extrusion method. Extrusion is a manufacturing process that molds the heated HDPE material into long lumber boards, as if it were Play-Doh. Through this process, the HDPE gains the shape and texture of natural wood lumber.
The classic wood feel, redefined:
DURAWOOD® poly lumber furniture never requires refinishing: all poly lumber is dyed to the core during the extrusion process and infused with UV-inhibitors, ensuring a lifetime of vivid color under the sun. Unlike wood, poly lumber is so solidly bonded that it will never splinter or crack during day to day use and no moisture can penetrate the material, preventing rot, mold and mildew.
Ultra-durable furniture for the digital age:
We don't skimp on our HDPE poly lumber. We use only the finest extrusion methods in order to produce denser, sturdier poly lumber material to ensure greater durability and safety for our customers.
Industry-Leading Hardware:
Pawleys Island furniture utilizes a Type 316 marine grade, stainless steel alloy to produce hardware for is outdoor furniture. Unique to Type 316 is the presence of Molybdenum, an element which provides protection against moisture, particularly the saltwater air or marine environments. It's known for keeping its shape and integrity, seen when exposed to major changes in temperature. Type 316 Stainless Steel rates among the most anti-corrosive metals in the world and is routinely used in surgical implants and naval vessels: a testament to its unparalleled corrosion resistance.
---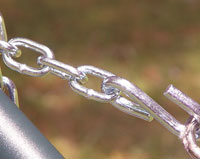 Our Hanging Hardware
The greatest stress on a hammock or swing falls on its hanging chains and rings. That's why our zinc-plated hanging chains and other steel hardware are among the heaviest in the industry, able to withstand greater sudden tension, and more normal wear-and-tear. Each of our hammocks also comes with two tree hooks, for hanging the old-fashioned way.
---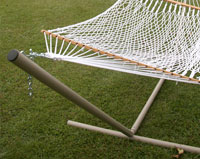 Our Stands
For our hammock stands and swing stands, we use 2-inch 12-guage steel pipe, the heaviest steel in the industry, for maximum stability, safety and durability. In fact, our hammock stands weigh on average up to 15 pounds more than those of even our closest competitor.
Other features that set our stands apart:
Right Connection®
With our hammock stands, we use our patented 360-degree Right Connection weld for attaching our foot poles to base poles. Safer and stronger than a standard pole-on-pole weld, we've never seen a Right Connection fail. Ever.
No tools/spring-pin assembly
All of our attachable metal-stand pieces connect using spring pins, for easy no-tools assembly and disassembly – and, ultimately, a much safer stand. The pins themselves have a solid-steel core, to prevent possible shearing from frequent use.
Offset hooks
Unlike the industry's typical "S" or "Z" hanging hooks, our uniquely angled offset hooks are specifically designed not only to be strong, but also to prevent rubbing against our hammock stands and wearing away the protective Cape Shield Powder Coat.
Cape Shield® Powder Coat
With soft sheens and just a hint of texture, our powder-coated hammock and swing stands look terrific – not to mention that they'll also easily outlast most other stands on the market!
Five-stage cleaning
Cleaner steel means powder coatings stick better and last longer. The industry standard for "washing" steel is a three-stage process; our Cape Shield Powder Coat instead involves a five-stage cleaning process.
A "greener" clean
Our powder-coat process has the added benefit of being more eco-friendly than those for most other protective industrial coatings, requiring much less energy and water use.
Goes on better, stays on longer
Applied with our high-pressure-spraying system, our electrostatically charged Cape Shield Powder Coat goes on thicker and more uniformly, with a tighter bond between metal and coating than is achievable through the industry's more common dipping-application method.
---